There are many reasons that push you to use a freight broker to send the goods, as freight forwarders will always be ready to find the best shipping method solutions, in addition to the ability to deal with all the details of sending goods from one place to another, which ultimately contributes to saving the total costs. And achieving customer satisfaction, in addition to saving your time to focus on the rest of your business, and below we will show you the top 5 reasons why you should use a freight broker to send goods
What is a freight broker?
It is an intermediary between shippers and carriers, and facilitates communication between the shipper and the carrier, as well as arranging and managing the shipment of goods from the shipper to the recipient, and he is responsible for ensuring that the delivery takes place smoothly between the carriers and the shippers.
see more: 
Move ever closer to your customers by offering a choice of delivery options and responding to their individual wishes
They also ensure that shipped goods will arrive safely on time, and they also use a network of carriers that can move the shipper's product around the world using various forms of transportation including ships, trucks, and airplanes.
5 reasons to use a freight forwarder to send goods
Shipping brokers have many options related to supply chain management who will greatly assist you in facilitating the shipping process and safely delivering your goods, and here are the top 5 reasons for you to use a freight broker to send goods:
The first reason | Efficiency of freight brokers
Freight brokers are more efficient at sending goods, they are professional in shipping operations. Instead of being distracted and preoccupied with complicated freight forwarding operations, you can use freight brokers to complete this task efficiently.

see more: 
shipping logistics Tips & Solutions | 11 Shipping and Logistics Trends for 2021
Especially since freight brokers are better equipped to deal with shipping needs, making you free to complete and manage other tasks that you are more experienced with, thus saving time and effort as well as money and reducing errors that may appear.
The second reason | Experience of freight brokers
The most prominent thing that freight brokers excel at is the smooth completion of shipping operations. They are experts in shipping services and sending goods.
They possess the necessary resources and technology to provide you with visibility and reporting capabilities. Hiring them will provide you with the ability to focus on growing your business and keeping your customers happy.
The third reason | Continuously scalable
Freight brokers are very flexible, due to their superior ability to deal with the constant changes that may occur to your business.
Freight brokers are always ready to work with you regardless of your shipping patterns, and so with freight brokers you cannot worry about the process of shipping your goods.
The fourth reason | Freight brokers have a wide network of contacts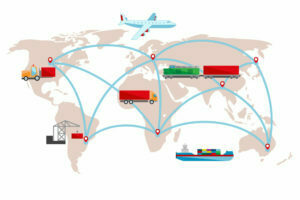 Perhaps one of the main reasons why you use freight brokers  when sending your goods is that freight forwarders have a wide communication network, and this is very important when transporting and shipping goods.
This will help you access foreign markets easily, as well as reduce shipping costs. If you deal with shipping brokers, you are thus guaranteed to have huge relationships that increase your purchasing power.
The fifth reason | Achieve the partnership
The most important reason for using freight brokers when sending goods is to achieve partnership, as freight intermediaries act as partners with you, which makes you both benefit well.
A freight broker will work on your behalf, so achieving your success is a great benefit to him, so you need to use freight brokers, especially when expanding your business.
How Freight Brokers Agents Can Help Small Businesses
Shipping agents can help small companies tremendously, as freight brokers, as mentioned in the previous part, possess the experience and skill that makes them take the responsibility of shipping goods effectively, helping you to reach global markets and at the same time ensuring the safety of the goods transported and saving a lot of time and money as well.
If small companies are able to benefit from the skills and practices of freight brokers, and apply this in the small business market properly, that would impart professionalism in the small business environment and make it grow significantly and quickly. Small companies dealing with freight brokers will help reduce the total cost of shipping along with Achieve efficiency and a higher level of customer satisfaction.