Over the past few years, automating warehouse operations has been said to be one of the most effective ways to improve return on investment (ROI). In addition, there are many aspects covered by automating warehouse operations, and in this article we will learn all the details about automating warehouse operations, what are the most important types of warehouse automation technology and why it is important to implement automating warehouse operations in your company.
What is automating warehouse operations?
Automating warehouse operations are intended to transform stock movement and other warehouse operations through the use of minimal human assistance.
In automating warehouse operations, stock is moved through robots and records are created electronically and logged in automatically without the need for workers to write them down.
How Does Warehouse Automation Work?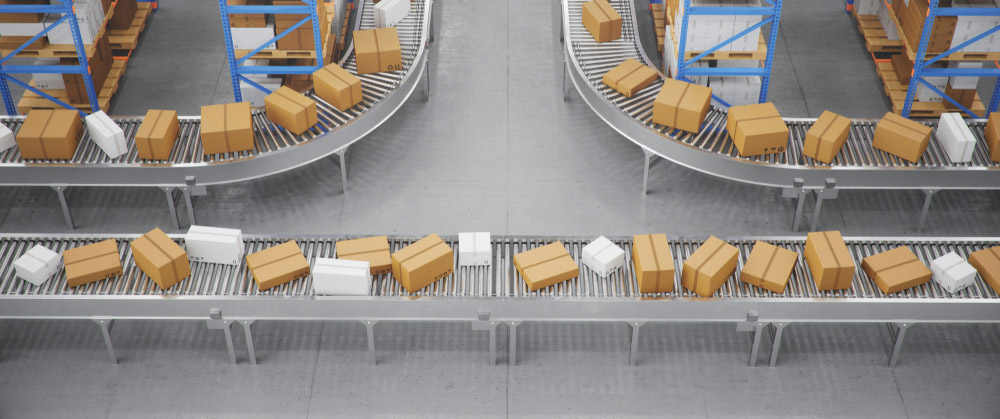 How automated warehouses work is about detecting repetitive tasks, manually entering data into picking, storing, and shipping goods, and finding ways to automate them.
That is, using software and technology such as robots and sensors to automate tasks, this ensures that your organization's vital business processes meet customer demand
It also helps in creating efficient Supply Chain strategies and reducing costs through the use of data-tracking systems.
This data is then transferred to the Enterprise Resource Planning (ERP) system so that it can be retrieved in the future.
Types of Warehouse Automation Technology
There are a large number of types of warehouse automation, due to the many systems and technologies that are used in warehouses.
Which aims, first and foremost, to reduce manual tasks and speed up operations using modern technology and automated systems.
The following are the most important types of automated warehouses:
1. Goods-to-Person (GTP)
It is a type of automated warehouse in which Order Management from person to person through the use of conveyors, lifting systems and other tools.
This type of warehouse automation increases the efficiency of work in warehouses and reduces overcrowding, thus wasting the speed of picking up orders in warehouses, and it is one of the most important forms of automating warehouse operations.
2. Automated Storage and Retrieval Systems (AS/RS)
This type includes a number of automated systems and equipment such as small cranes and vehicles that transport materials.
And this type of warehouse automation is used in large volumes of warehouses.
3. Automatic Guided Vehicles (AGVs):
It is a type of warehouse automation with the least amount of embedded computing power, in which sensor-powered vehicles are used to navigate fixed paths within warehouses.
This type is also suitable only for simple warehouses, while warehouses with space constraints or large human traffic will not be suitable with this type.
4. Autonomous Mobile Robots (AMRs):
This type of automated warehouse is the most flexible of the type AGVs in which GPS systems are used to establish efficient routes through the warehouse.
Obstacle detection systems are also used through laser guidance technology, thus making it possible to navigate safely in warehouses with space constraints or heavy human traffic.
Autonomous Mobile Robots (AMRs) are easy to program through the use of tracks and are quick to implement.
So it is one of the best forms of automating warehouse operations.
5. Pick-to-Light and Put-to-Light Systems
This type of automated warehouse uses portable barcode scanners, which are synchronized with a number of digitally illuminated screens,
Through which warehouse pickers can be directed to where specified items are placed. Thus, Pick-to-Light and Put-to-Light Systems help:
Reduce walking and searching time drastically.
Reduce human errors while working.
Why Should You Automate Your Warehouse?
You may be wondering why you should automate warehouse operations, and in fact, it is very important.
Warehouses are one of the essential components of logistics management, and therefore any delay in warehouse operation will negatively affect cash flow and customer satisfaction.
Therefore, there is great importance for automating warehouse operations, which helps warehouses in improving their work efficiency and performance, which will lead to:
Reduce operating expenses and unnecessary costs of errors.
Protect the company's assets, brand and reputation.
Increase the efficiency and productivity of human resources.
Minimize manual operations.
Dealing with stock keeping units.
Optimization of warehouse space, layout and flow.
Coordinate the use of material handling equipment such as barcode scanners and laptop computers.
Warehouse Automation Software to the Rescue
Automating warehouse operations will help you effectively and efficiently in meeting the daily challenges of supply chains and relieving those stresses.
It also helps in the effective continuous management as well as the handling of stock quantities, raw materials and other forms more efficiently.
Diggipacks can help you provide the best warehouse automation systems, ensuring you the highest standards of quality, productivity, storage and space.
Diggipacks technologies will also help you track your entire inventory online and without making any contact as well.
Whatever the size of your business it provides you with the necessary space.